A New Wave of Audio Content
Understanding the rise of audio content and how you can use this to your advantage.
You're reading the Media Hackers tool teardown. Each post breaks down tech tools that newsrooms and media organizations. I'm Erin Mikail Staples, and I work at the intersection of community and product, with a work history in media organizations, tech startups, and SaaS platforms, and I'm passionate about empowering creators.
---
What's the deal with audio-first?
Audio-first has been sort of a trending area in the last few months. Whether you're one of the many on Clubhouse, Space, Roadtrip, Eternal… the list goes on, or if you're one of the many pandemic podcasters, or working in an audio-adjacent space tackling issues of discovery, education, or content creation.
When the pandemic first hit, we saw a few things happen in the world of audio content. First off, podcasting had a bit of a decline for the first seven weeks. Even myself, an avid podcast listener, got out of the routine of regular podcast listening. Neiman Lab reported that this downturn started to reverse around weeks 8-9 as people settled into their day-to-day. That said, during the pandemic, it felt like everyone, and their uncle was starting a new podcast — heck my comedy podcast even went remote and had to figure out how to record in two different continents (Zencastr you are our friend!). We also saw an emergence of live audio and began exploring the world of ephemeral content.
Live audio is a beast of its own and has taken the tech/VC world by storm. With a few new players in the game from Chalk App, Space Chat, and the notorious/infamous Clubhouse, we've seen a wave of potential in this medium. But this isn't the first time this has been tried, — Facebook tried live audio in 2016.
With everything happening in the space, it's natural that we want to be breaking this down and figuring out where we can make this the best place for this.
What does this mean for content creators, journalists, and storytellers?
Audio is still a fairly new land of opportunity, with a bunch of newcomers on the scene as well — if the internet is an acne-prone teenager, pushing limits and figuring out what's next, the internet + audio is a grade-schooler, looking at the world for what it is and seeing how it can grow.
I'm of the attitude that the internet favors the early adopter. Content creators, journalists, and storytellers all can, and should be using these spaces to create and create a different wave of content to connect with their audience. We even see big-time players like the New York Times jump into this space with the purchase of Audm and the rise of popularity of daily news podcasts from major news outlets.
For as much as we've had a ton of growth in this space, there are still a few things that need to be figured out. Clubhouse, for example, became the target of skepticism, much because of their exclusivity and limitations to Silicon Valley, but also with things that unfolded in the recent months of the apps use that brought up questions of moderation and safety.
Moderation aside, I think if we all abide by the journalistic notion of "don't act in a way that you would be embarrassed if it ends up on the front page of the New York Times" (which tbh, shouldn't we all live our lives this way?), these spaces can be places where we can have fruitful conversations and learning.
Content creators, journalists, and storytellers have started to leverage these platforms in unique ways to facilitate conversations in a new way. From hosted, routine chats around a specific topic (Commerce + Coffee, DTC Chat, Press Club, Politics talk, a Trivia Hour, and a personal shoutout to my Sham Podcast live episodes), or live ephemeral rooms to hang out in the spontaneous moment, these apps allow for in-depth interviews and more context than 280 characters, or a well-designed graphic can provide.
The key to creating a successful event in audio, whether in a planned/recorded format (Knowable, Spotify, Luminary, Gimlet) or rather in a more spontaneous ephemeral format (Clubhouse, Chalk, Space, Roadtrip), is going to come down to community leaders and managers knowing when to step in, when to pass the mic, and how to faciliate good conversations. Engaging and cultivating an engaged audience is only going to become more important, and more platform agnostic.
---
Ok, where do we go from here?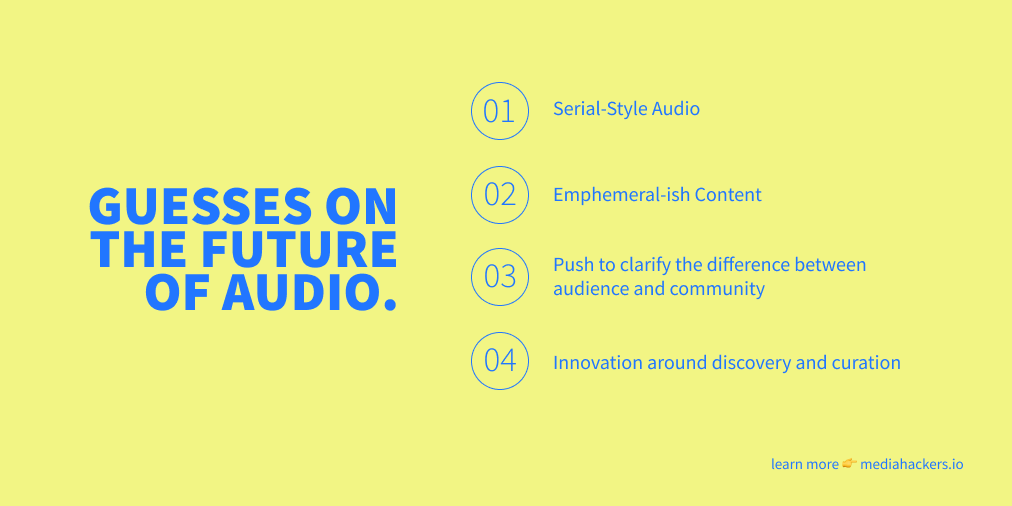 First and foremost, audio isn't going anywhere, but increasingly we're also going to focus more on a few different aspects — I've laid out my hypotheses below:
Serial-Style Audio
Remember Serial? The hit true-crime podcast released one week at a time, in a more serial, storytelling format? Increasingly, I've seen podcasts or podcast-like content mimic this same format. Knowable is tackling this by partnering with larger creators to create short podcast-driven courses broken up into a small series, while we've seen series like the Baron of Botox, or Boom/Bust leverage this format to tell in-depth journalistic narratives that allow for more detail, and voices than just a typical one-off podcast episode.
Ephemeral-ish Content
While yes, I think that live audio will be around post-pandemic, I'm going to argue that we'll see a rise in ephemeral content. The you had to be there type of content that encourages conversations. Houseparty was an app that took off at the beginning of the pandemic, encouraging drop-in video chats and facetime-like calls, and now I've even seen drop-in discord video/audio calls happening in some communities. This style of content allows for a way to build connections but also not stress so much of the formality. You can drop in and drop out, without too much interruption or planning.
A more clear definition of Audience vs. Community
While we've had conversations in the past among those involved in community building or editorial landscapes, audio has the potential to fully define where this is actually heading. With the rise of these apps, you can have a large audience of listeners, sure, but who is going to show up and participate in the community? How do we encourage a back and forth dialog?
Emphasis around discovery and curation
Podcasts have been around a while now, and the tools of creation are more popular than ever. However, talk to anyone who listens to podcasts regularly, and they probably have a preferred app to listen to them on, and a routine around them. In the world of media solopreneurs, it can be hard to find and discover new content. We're largely still relying on large media platforms like Twitter to discover and find new content by new content creators. I predict that there will be more innovation in the space revolving around ways to discover new content, or even curate content.
---
In this weeks toolkit:
Each week, outside of the deep dive, I'll be sending out a toolkit showing you how you can use no-code tools to help encourage your audience to share more.

This week we'll be diving into moderation's role in audio-first content as part of a special feature involving other leaders in the community building realm — stay tuned!
Is there a topic that you'd like to see me breakdown? Shoot me an email!
---
Media Hackers is a project built by Erin Mikail Staples focused on how we can use tech tools to create better media businesses.
If you enjoyed this newsletter, please share it on social! 💌