Slowing down to speed up
Revisiting my goals with this project, and practicing building transparently.
You're reading the Media Hackers tool teardown. Each post breaks down tech tools that newsrooms and media organizations. I'm Erin Mikail Staples, and I work at the intersection of community and product, with a work history in media organizations, tech startups, and SaaS platforms, and I'm passionate about empowering creators.
---
The Art of the Pivot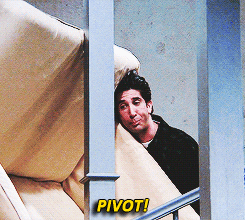 If you've been in startups (or watched silicon valley), you've probably heard of pivoting. So many do it, it's almost essential to every business at one time or another. Without this notion, we'd see YouTube as a dating website ("tune in, hook up" 🥴), Nintendo went from a playing card company, took a detour with ramen noodles, then turned to games, and even legacy media giants like the Guardian took their stab at pivoting, moving away from a dependency on digital ads. People can also make personal pivots, shifting careers, or industries.
Adapt or die; the innovator mentality
Coming from a media background, dabbling in tech, and dabbling back in media again (the forever juggled balance), I've held onto this notion of adapt or die. The world doesn't stay the same over the years, neither should you or your business.
My mom always refers this idea that you go through life shifts every 5 years. You grow out of things, step into new phases, and change your interests. People grow, learn and create new things. While a quick google search offers no immediate scientific/sociological proof, there's multiple signs in astrology and holistic practices behind the 7-year cycle.
Whether there's any knowledge or science behind cycles or phases, we should most definitely consider the knowledge or science that comes with new technologies that impact our business. I'm reminded of the story behind Moneyball, and the scrappy (nerdy) team behind the success of the Oakland A's, and the knowledge behind it looked over by Samford University.
It's one thing to just pivot your business for the sake of pivoting, but as the Moneyball story taught us — we need to do so with a little more than just a whim, through understanding the system in which we're playing in, as well as what data is relevant (and possibly overlooked), we can make pivot decisions that stay with us for the long run.
Erin, why the hell are you talking about pivoting?
Well, because this project is taking a slight pivot. I'm slowing down to speed up. I'm currently in the process of wrapping up my masters degree in NYU's Studio 20 program, and have a lot of resources offered to me through this — so naturally, I'm going to use them.
I've consulted with advisors, and mentors and thought further about what I want to do with this little space of mine on the internet, and how I want to create, create transparently, and build in public. Early research shows, the tools of creation have allowed for more people to create than ever before, and that's awesome! But what does this mean, and does it end up working out for everyone?
Thinking editorially
I'll be shifting the editorial content of this newsletter, and have gone ahead and identified and interviewed folks with strong opinions about solopreneurs, work in media, have a newsletter, or creating tech tools and are along for the ride. Content will be similar, but with a stronger emphasis on consistency, tools actively used, interviews with folks who are doing it, and creating a lasting resource for those who want to build their own media empires.
What you can expect from now on
:
Every Tuesday: a teardown featuring an interview with someone who is thinking about solopreneurs, those building in media, and has content as their key product. I've got interviews lined up with folks like Holden Page, Clayton Chambers, Andrea Hernandez, and more.
Know someone I should interview? tell me here
Are you someone I should interview? tell me here
Every Thursday: We'll be breaking down tools, resources, or knowledge imparted by those who are creating. From sharing new tutorials, going over how solopreneurs handle issues unique to them, and tackling our favorite tools that could possibly help you get a grasp on what your essential tech stack should be.
As I'm building — you can catch the latest updates, scroll through past topics and interviews, request new topics, and follow along on the public roadmap. Oh! and I'll also have a link to where you can discuss these things with other creators, so join us on Slack!
---
Next weeks topics: the problems with solopreneurship
While solopreneurs are hot and trending now, a one-person shop for media creation is damn hard! We have editors for a reason! I chatted with Holden Page on his thoughts, coming from a journalist angle to gain his perspective on some of the problems that individuals may face.
Is there a topic that you'd like to see me breakdown? Leave a comment below! Are you building your own thing — tell me more about it!