What's the deal with Audience Engagement?
The power of connecting with your readers, why it's important, and building relationships without compromising journalistic ethics.
Welcome to Media Hackers! A weekly newsletter and toolkit of how to use tech tools to empower media creators and the modern newsroom. I'm opening up this newsletter for free to all for the first month, but will be moving tutorials and additional content behind a paywall. Want to make sure you're getting all of the updates? shoot me an email and I'll grant you a free subscription, including access to the members-only wiki + discord chat, for being an early adopter.
Want to support the cause? Do me a solid and hit the `Subscribe Now` button.
---
What's the deal with Audience Engagement?
Drop into any journalism class in 2020, pop your head into a newsroom, or scroll through journalism job postings, and you'll quickly see a new role that seems to have come out of nowhere — Audience Engagement Editor.
The role of an Audience Engagement Editor is just that - to engage with your audience, build relationships, sort of a community. The term can be a sort of catch-all and is much like the word "community" used in tech. No one seems to really know what this means exactly, and it often just lumps into all of these things.
From my personal experience and scrolling through job postings for Audience Engagement Editors, I've discovered this could mean the following things:
Managing social media accounts

Crowdsourcing stories

Distributing content on social

Teaching other reporters how to use social

Managing online groups/forums

Writing/editing newsletters

A plethora of other things that are online/involve social platforms.
At the surface, these seem pretty straightforward. Get online, create a few posts, comment back a few times — easy enough right? WRONG.
The role of an Audience Engagement Editor can often be compared to a Community Manager or similar role, but depending on what community you're looking at — intentions and success metrics differ from those in the Journalism world.
We face a few core problems in the journalism industry that make this particularly difficult.
Distrust in media

Online platforms reproduce our physical world.

Journalism's role in accountability

Journalism's role to inform the public.
Meanwhile, the tech world has been creating communities and thinking about the people first for some time now, for better for worse. What skills can journalists and newsrooms learn from this? What role do Audience Engagement and Community building bring in the modern-day newsroom? How can we build systems that benefit both readers and news in the long-haul?
The fundamentals of Audience Engagement.
Journalists and media professionals are notoriously are skeptical, heck, its the same trait we herald in the industry, so it can be difficult to convince individuals to have buy-in to community building. We know that there are so many benefits to building a community, and the one I find the most powerful is having a sense of belonging. When your audience is distracted from all different corners of the web, it can be hard to find a place where they feel listened to and heard. How do we create a culture of listening and service for a media organization?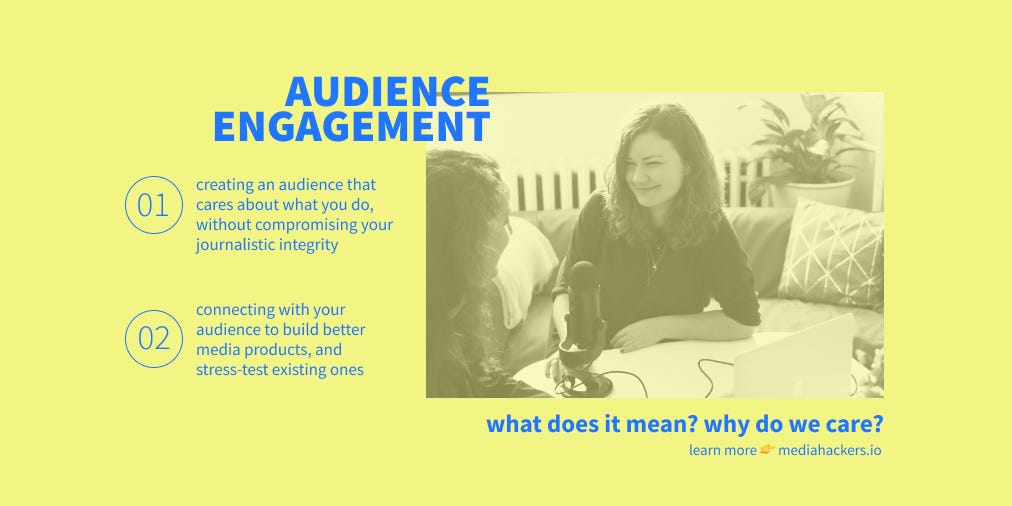 Today, we're going to focus on these two areas
To create a community that cares about what you do, without compromising journalistic integrity.

Connect with your existing audience to build better media products and stress-test existing ones.
Creating a community that cares, without compromise.
The first rule to create a community that cares is to care about the people in the community. Too often, we're worried about signups, page views, and analytics, than actually caring about our community. And I get it! It's hard, and the current climate of people assuming they know how media organizations work (looks at some dark areas of VC Twitter), makes it feel like you're up against a wall. But the cool thing about community is that it starts one person at a time.
1. Look internally: how are existing creators building community?
Whether you're a newsroom of one (shout out to Substack-ers like Judd Legum), a newsroom of several hundred (hello there, Financial Times), or somewhere in between (eyes on the Correspondent), there are things that you can do to start building your community, and that's first by understanding who's already in your court.
Ask yourself the following questions:
Who are my top subscribers?

What do they engage with on social media? (even outside of the newsroom)

Do you know them personally? Why/Why not?

Have you reached out to them to thank them?

Do you know why they subscribe?

What platform are they most active on?

Have you connected with them on that platform?
Starting here, you can start to figure out the basic online habits of people who are consuming your content. I also want to point out one bullet point in particular: Have you reached out to thank them?
If not, stop and do it now. Send a DM if they follow you on twitter, send a quick email if they don't, let them know you appreciate them.
They've been along for the ride, at least for a day, take the time and thank them. In the world of online content, it's important to make sure that you're building a community that feels valued.
2. Create familiarity
Consistency is key here, you can't just do it once. Make sure you're building a habit of asking existing subscribers what they're doing or what they're up to. Make yourself available, unveil the curtain on things you can unveil the curtain on — check out ProPublica's guide on what engagement reporting does and doesn't do.
Go to where they're hanging out online. I've heard some journalists recently scoff about the rise in audio-first apps like Clubhouse, and Chalk App, among others, and I'm frustrated by it. It does no good for journalists to put their head in the sand, and ignore what is happening in the world around them, it's important to understand how the communities around us operate, as well as to learn who are the key players are in these communities.
Through being consistent, and present online in the communities that matter most to you, even as just a participant, media professionals can create better relationships with those they are meant to serve.
3. Understand what role you're playing
Defining your goals in audience engagement is important to help you understand the role you're playing in the larger ecosystem. Too often, Audience Engagement is seen as a quick fix or solution to fix all that's wrong with media, by driving new subscribers and rabid fans, and that's not the case. Largely, Audience Engagement and community building is part of the toolkit a media organization or journalist will need to survive in 2020 and beyond.
If we look at journalism's role in society as being one that informs the public, holds parties accountable, tells the truth, and facilitates conversations, then we also hold the idea that journalism is largely platform agnostic. You can do all of the above in mediums outside of written content and video — now it's your turn to get creative and see what works best for you. ✨
Measuring Success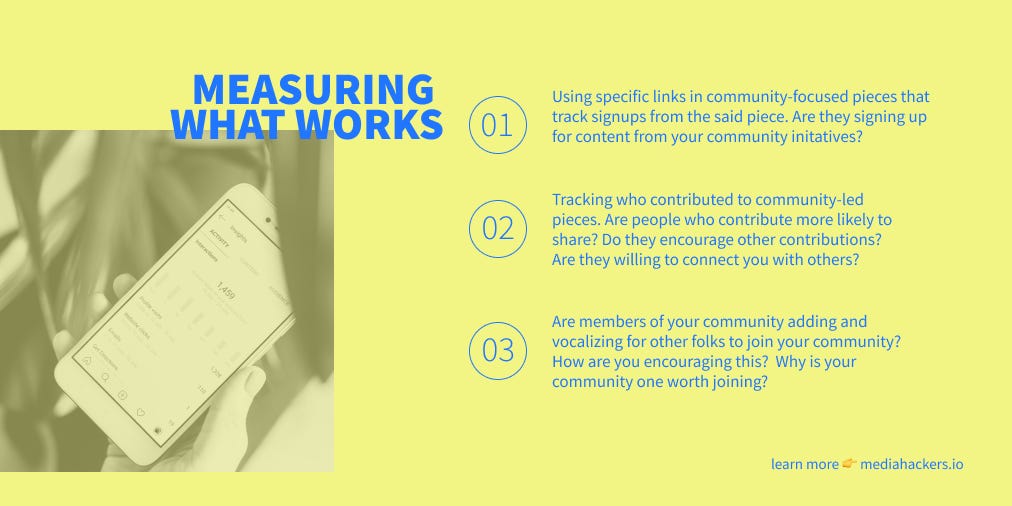 For some of you reading this in a more legacy-ish organization, you are most likely going to be faced with the question to get more data, or proof that it's working before continuing on. And that's okay!
While community efforts can be harder to measure, there are still signs that I look for to make sure that the community is indeed working.
Link tracking
There are two main ways I've used links to help build an audience or understand where traffic is coming from UTM links and Referrals.
UTM Links
UTM links, or "Urchin Tracking Modules" allow you to put a specific link in your content, and understand where it's coming from. You can track if people are ACTUALLY coming from social media, or where that link is being shared. This is a good way to use if you're creating specific content and want to track if it's coming from your newsletter, website, or even a specific campaign outside of your own platform.
Buffer has a good basic UTM tutorial here.
Affiliate Links
If you're an organization that has created strong brand advocates, and have loyal followers, reward them with a win-win scenario through affiliate marketing. It sometimes can get a bad rap, with the whole MLM shenanigans, but it's much of the way organizations like Morning Brew have had such success. In fact, creating brand loyalty that someone will refer you out to is actually far harder than actually creating a referral program.
To identify if you have that sort of brand loyalty, monitor who talks about your product — is your product talked about and recommended openly? Are people linking out to it? If so, you may be a good candidate for Affiliate links.
Community input & contributions
ProPublica is well-known for their community-driven news organizations. But they're not the only one. Check out The City's recent crowdsourced journalism collaboration.
Are you getting contributions from your community? Are people helping you out by sharing their experiences? How are you rewarding them for sharing their experiences?
To make sure that they're coming back, make sure to thank them, and let them know how their resource helped you. Make yourself available to others, this helps build trust and helps your community knows, that at the end of the day, you're there for them.
Vocalizing support
The biggest form of flattery is when your subscribers build this sort of community of support for your work. Delia Cai has created this sort of support for her newsletter, Deez Links. It's been so successful, that this support has earned her coverage in other media outlets, and has recently launched a partnership with Study Hall to do classifieds.

Margarita Noriega
@margarita
Who writes your favorite newsletter?
Doing this means putting in the work to make sure that you're building something that people are proud of. Substack breaks down the science on how she got 2,000+ subscribers, and how content creators can help build their audiences. Give it a read, and don't be afraid of being proud of what you create. Then, measure who else is excited about what you're creating! Chances are, you're not alone.
---
In this weeks toolkit:
Each week, outside of the deep dive, I'll be sending out a toolkit showing you how you can use no-code tools to help encourage your audience to share more.

This week we'll be going over building out different audience personas, and putting them into Airtable to make sure you're creating content that best fits for each persona.
As a friendly reminder, this content will be moved behind a paywall after the first month.
Is there a topic that you'd like to see me breakdown? Shoot me an email!
---
Media Hackers is a project built by Erin Mikail focused on how we can use tech tools to create better media businesses.
If you enjoyed this newsletter, please share it on social! 💌